August 25, 2022
Singapore Pavilion launched at Smart China Expo 2022
On August 22, the opening ceremony and summit of the 2022 Smart China Expo was held at the Chongqing Yuelai International Convention Center. Josephine Teo, Minister of Communications and Information of Singapore and Second Minister of the Ministry of Home Affairs, delivered a video speech at the opening ceremony of the 2022 Smart China Expo. It introduced the achievements made by Singapore in exploring the construction of smart cities, and looked forward to the cooperation prospects between Chongqing-Singapore in jointly building a dedicated international Internet data channel and exploring the application scenarios of the channel.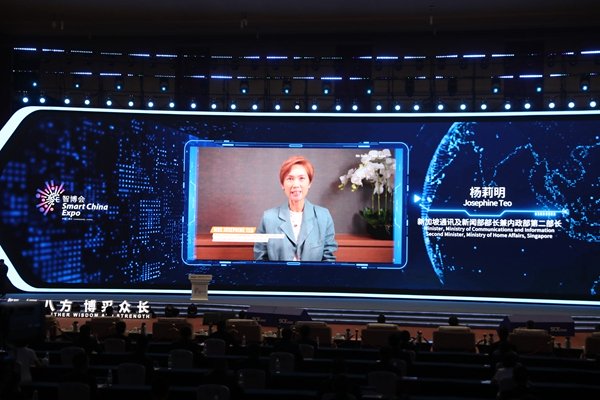 Josephine Teo delivered a video speech at the opening ceremony of the 2022 Smart China Expo. Photo courtesy of China-Singapore (Chongqing) Demonstration Initiative on strategic Connectivity Administrative Bureau.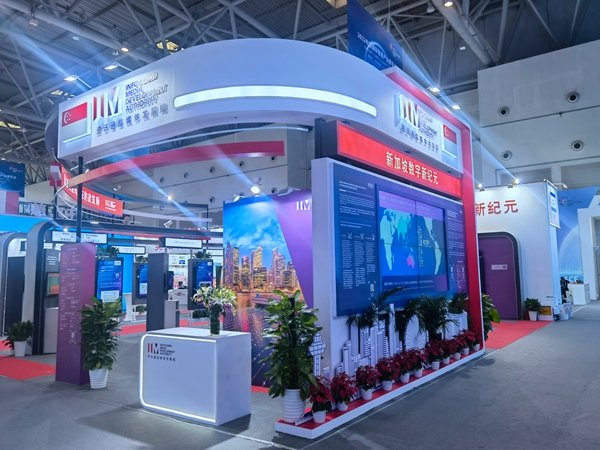 On the same day, the opening ceremony of the Singapore Pavilion was held in Hall N1 of Chongqing International Expo Center. This year, there are 65 Singaporean companies participating in the exhibition, including 9 participating offline and 56 online, focusing on the theme of smart city construction, focusing on the three major areas of technology and trade, technology and innovation, technology and sustainable development, online and offline Communication and collision sparks will further promote Chongqing-Singapore enterprises to jointly carry out innovative projects in the field of information and communication, stimulate new ideas, gain insight into new trends, develop new potentials, and improve the level of smart city construction in Chongqing.
It is understood that in recent years, more than 260 Singaporean enterprises have participated in the previous Smart China Expo and signed 53 cooperation agreements; Singapore and the Chongqing Municipal Government have also jointly established the China-Singapore Information and Communication Media Joint Innovation and Development Fund (JIDF) project, which has funded 20 Joint innovation and development projects, amounting to 21.3 million RMB.(Xu Linpei)